Kubus Rubik untuk Pemula - Kindle Edition
New Releases in Kobo eBook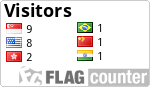 News
---
Welcome To Site!
This site tells about military and war. We believe, as stated by Sun Tzu, that the war would always be studied from time to time, since it becomes one of the most determinant factors whether a nation will get a glory or destruction.
There are some questions concerning with military and war which up to this present time cannot be satisfactorily answered yet. First, it concerns with the relation between the military theories and theories about the war: Is the Science of War standing alone or just only a theory and becoming a part of Military Science, or on the contrary – the Military Theory becomes a part of the Science of War. Second, the question related to the Science of War itself, is it a science, an art or a philosophy?
Recent Articles
THE BATTLE OF TRAFALGAR
Nelson's crushing defeat of the French and Spanish Navies, establishing Britain as the dominant world naval power for a century.
REMEMBERING THE FALKLANDS WAR
In the very early morning on April 2, 1982, the Argentinean command troops landed in East Falkland coast near Port Stanley and attacked and seized the British mariner base.
THE QUICK RESPONSE OF BRITISH IN FALKLANDS WAR
The quick response of British was beyond calculation of General Leopoldo Galtieri, the President of Argentine, who designed such invasion to Falklands.